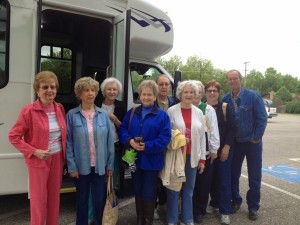 Umpteenagers is our Senior Adult Ministry at New Haven.  This is a group of seniors, aged 55+, who meet each month.
Umpteenagers are an extremely active group.  We love to go on trips!  Past day trips have included Marland Mansion in Ponca City, the Coleman Theater in Miami, the Cha Tullis Art Gallery in Hominy, the Cowboy Hall of Fame in Oklahoma City, the Clydesdale Horses in Yukon, and numerous other places of interest in and around Tulsa.  When we are not traveling, we meet in the church parlor for lunch, games or a variety of speakers, (including television personalities and sometimes one of our own church members!).
For 2020, the Umpteenagers have the following events planned –
March 22nd – Broken Arrow Community Playhouse

April 21st – Cowboy Hall of Fame in Oklahoma City and lunch at Pops in Arcadia

May – Renaissance Festival in Muskogee

June 16th – Precious Moments in Carthage, Missouri

July 21st – Lunch and a Movie

September 15th – Amish Dinner in Chouteau

October 20th – Bartlesville and Dewey

November 17th – Ponca City

December 15th – Philbrook Museum
The Umpteenagers are a fun-loving group and we would love to have you join us!
Please call our church office at 918-743-6491 if you have questions and to get event times.