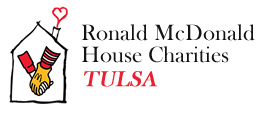 The Ronald McDonald House of Tulsa has been in operation since October 1991.  The goal of each Ronald McDonald House is to provide a homelike atmosphere to families facing the stress of medical treatment for their child.
Families of dependent children through age 21 who are being treated for a serious medical illness or injury at Tulsa area hospitals and live outside a 25-mile radius of Tulsa are eligible to stay.  The Tulsa facility has 24 private bedrooms, a double kitchen, dining room, meeting areas, laundry, etc.  A staff member is on-site 24 hours a day.  It is adjacent to Saint Francis Hospital on 61st Street between Yale and Sheridan.  The House is an independent, non-profit corporation, locally owned and operated by Ronald McDonald Charities of Tulsa, Inc. and is entirely dependent upon donations.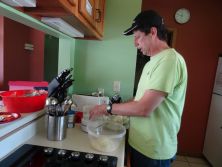 New Haven members participate in a Guest Chef program in which a small group can serve a home-cooked meal to the families staying at the House.  Normally a meal is prepared to serve approximately 30 – 35 people.  However, volunteers can always call the House closer to the date to get a better estimate of how many people are staying.  The kitchen has two cooking stations, so approximately 4 to 6 participants are optimal.  The meal is cooked right there.  The kitchens are equipped with pots, bake ware, and cooking utensils.
Be aware that not all families show up at once to eat.  Although you may be putting away leftovers when you clean up, families usually finish them off the next day.
If you, a Sunday School class, or small group would like to prepare and serve a meal for the families at the Ronald McDonald House of Tulsa, please contact Phil Roberts at 918-671-2055 or at Phil.Roberts@cox.net.
For more information, visit https://www.rmhtulsa.org/.