Sermon Titles and Scriptures for Livestream Worship
June 28th– "Withholding from God"
Scriptures are Genesis 22:1-14 and Genesis 22:1-14
Please click on the Worship Live (Livestream) link on the right hand side of the screen. We will be live at 11:00 am on Sundays but you can view previous services any time.
Also, our Children's Director has created a Facebook group for our kids to stay connected.  Please click to watch here
Vacation Bible School (aka VBS)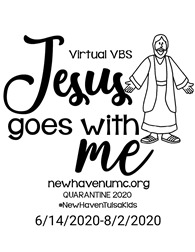 Our annual Vacation Bible School is a very important outreach and ministry. Due to these unusual times we are living right now, we are hosting a virtual VBS rather than the traditional in-person one. We're excited about this new format and want you to invite others to join us. All they need is an internet connection.
We would love to have participants from all over the world! Our theme is "Jesus Goes with Me" and it will run June 14-August 2. We will post a new VBS adventure every Sunday at 10:00 am (CDT) on our New Haven Kids YouTube channel to watch click here and Children's Church at Home Facebook page to watch click here.
Please register for virtual VBS 2020 "Jesus Goes with Me" by clicking here.  We need your information so we can send your VBS materials. The first few people to register will also receive a free t-shirt.
Also, please click here to download your flat Jesus picture