Rev. Cindy Havlik – Senior Pastor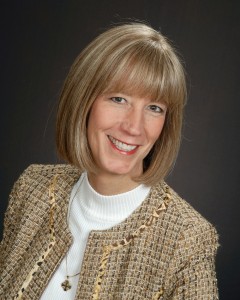 Rev. Cindy Havlik is married to Peter Havlik, a project engineering manager at REG Synthetic Fuels. Their oldest daughter, Nicole, is married to Patrick Grafton and resides in Tulsa. Audrey, their middle daughter, also resides in Tulsa and is married to Dallas Quinalty. Their youngest daughter, Laura, is married to Drew Sahli and resides in Broken Arrow.  Cindy and Peter were thrilled to welcome four grandchildren into their lives in the past three years!
Cindy earned her undergraduate Bachelor of Science in Accounting degree from the University of Kentucky. Cindy began her seminary studies at Perkins School of Theology, and after her family moved to Tulsa, transferred to Phillips Theological Seminary and graduated summa cum laude with a Masters of Divinity Degree. She has worked on staff at The Woodlands United Methodist Church in Houston, Texas, University United Methodist Church in Lake Charles, Louisiana, and at Faith United Methodist Church in Tulsa, Oklahoma. She has over 20 years of experience in the multi-staff church setting.
In May of 2005 she was commissioned Elder and appointed to Faith UMC as Associate Pastor. In May of 2008, Cindy was ordained Elder in the United Methodist Church continuing her appointment at Faith United Methodist Church as Senior Associate Pastor, where she served for a total of 8 years. In June of 2009, Cindy was appointed as Senior Pastor at New Haven United Methodist Church.
Cindy has served on the District Board of Church Location and Building, the Board for Cookson Hills Ministry, the annual conference as a member of the Worship Planning Committee, and currently serves on the Board of Ordained Ministry, the District Transition Team, and Council Oak District Trustees.  She was a delegate to the World Methodist Council Conference in Durban, South Africa in August of 2011.
Cindy's passion for ministry lies in many areas, including the mission field. She has participated in international missions to El Salvador, Nicaragua, México, Costa Rica, and Cuba. She has also journeyed to New Orleans to help rebuild after the devastation of Hurricane Katrina, and taken part in local missions at Restore Hope, Cookson Hills, Tulsa Day Center for the Homeless and the Laura Dester Shelter.  Cindy most recently led mission trips to Albuquerque, New Mexico in April of 2013, and Bear Branch, Kentucky in March of 2015.
Cindy loves people, outdoor sports and activities, and especially loves the church of Jesus Christ.
Email: cindy.havlik@newhavenumc.org |
Phone: 918 743.6491